About
As a current Harvard student and previous camp counselor, I have had the opportunity to work with students across all age groups and disciplines (ages 6-21 in math, Spanish, science, history, SAT and college apps).
My tutoring style is to ensure mastery of topics by explaining how and why they work. I am very good at taking complex topics and making them easier to understand.
Working with students to achieve their academic goals is one of my greatest passions. Over the past two years I have been a counselor and dirctor at an academic enrichment camp for youth in Boston.
Finding ways to explain concepts that make sense to each student was one of the most exciting parts of the job! I love helping students reach their "aha!" moment when the concept clicks.
---
---
Photos and videos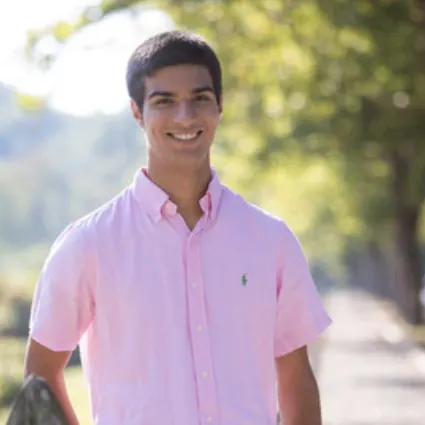 ---
Reviews
---
He was very helpful in providing tactics to improve in areas I struggled with. He showed great kindness and patience which I think is especially important with a job like this.
October 15, 2021
---
Sajen connected with my son right away. He listened and understood his strengths and weaknesses. Confidence was higher too!
August 30, 2021
---
We have Sajen working with our 8th grader and 5th grader in math. He is able to seamlessly work with the two of them to get them back on track after a year of interrupted instruction at school. He is knowledgeable, skilled in the standards for math across grade levels, approachable, and respectful of the learning needs of my children. He is a true asset.
May 28, 2021
---
Was very patient and helpful in creating a plan to complete my college application. Very personable and easy to talk to.
May 13, 2021
---
Sajen is one of the smartest people I know, and someone I'm proud to call a friend. He was always willing to lend a helping hand while we shared a number of classes throughout our academic careers.
April 25, 2021
---
Sajen was one of the best experiences I've had with tutoring. He helped me think critically and reflect on what exactly I needed to start doing in order to achieve the results we both wanted from me. He was always patient and genuinely made me stop and think about the direction I needed to go. He made me think outside of the box, and I'm thankful I was able to enjoy his tutoring!
April 22, 2021
---
Frequently asked questions
What is your typical process for working with a new student?
I am an easy going person who likes to get to know my students! y experience has taught me that forming a relationship with my students helps to not only foster trust, but also helps me to tailor my teaching to the student's particular needs.
What education and/or training do you have that relates to your work?
- Harvard University Class of 2023
- 7 years of tutoring experience (ages 6-21 across all subjects)
- 2 year of experience in curriculum development and classroom management
- 1 year of experience in directing an acadmeic enrichment camp for 60 students
How did you get started teaching?
I began tutoring as a high school student in National Honors Society. I have since taught and directed at an acadmeic enrichment summer program and a term-time after school program.
What types of students have you worked with?
I have worked with students of all ages, socioeconomic backgrounds, and races.
Describe a recent event you are fond of.
I recently helped a student edit their College Essay. This was a really exciting tutoring experience for me because I was able to help this student express their personal story and dreams. We worked closely together for several months and crafted a beautiful essay. He is now going to be attending a presitgous school and I am proud to have helped him get there.
---
Services offered